Release Date: January 27, 2023
Amoroso
Alex Klein, oboe | Rita Costanzi, harp
Few instruments are as viscerally associated with the idea of grace and beauty as the harp, and few are as apt to express a sense of yearning as the oboe. So what could possibly capture the feeling of love better than a duo composed of these two instruments? Possibly nothing, as harpist Rita Costanzi and oboist Alex Klein rivetingly demonstrate on AMOROSO, an archetypally romantic album of intimate chamber music. Well-known classics by Debussy, Fauré, Massenet, Rachmaninoff, Piazzolla, and Rodrigo shine in a new light, and two new, fittingly romantic pieces by contemporary composers Michael Cohen and Michael Amorosi perfectly complete this wonderful picture.
01
Canção Pequena
4:15
02
Reverie
5:10
03
Après un Rêve
3:29
04
Beau Soir
2:58
05
Vocalise, Op. 34, No. 14
5:55
06
Adagio
6:17
07
Clair de Lune
3:44
08
Première Arabesque
5:56
09
Sicilienne
4:11
10
Meditation from Thaïs
5:18
11
Asturiana
2:08
12
Oblivion
4:11
13
En Aranjuez con tu Amor
10:00
14
Tanti anni prima
5:50
15
Nana
1:42
Podcast
Rita Costanzi joins Jim Cunningham, Manager of WQED – FM Classical Music Radio in Pittsburgh to discuss AMOROSO.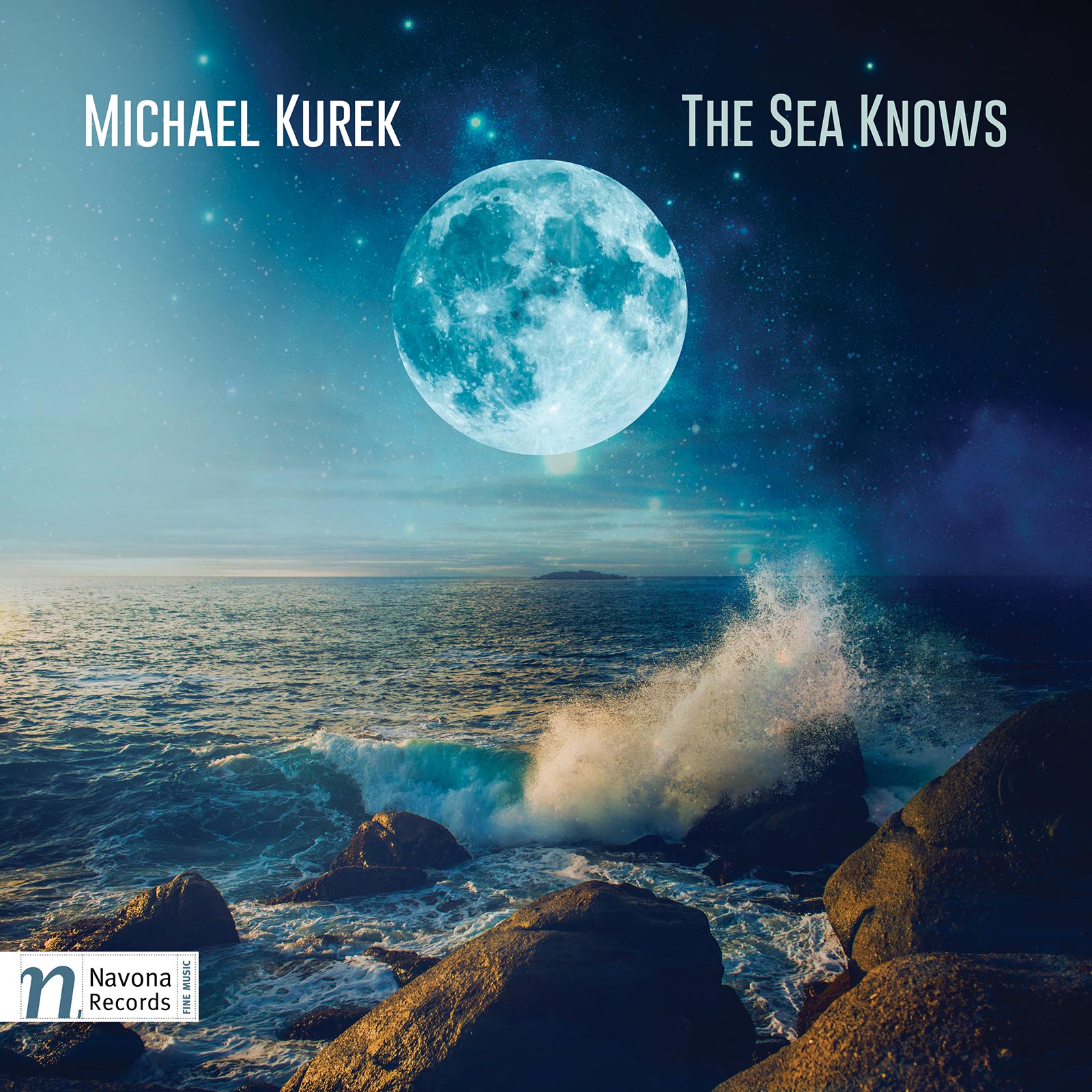 Release Date: July 14, 2017
The Sea Knows
Michael Kurek, composer | Ovidiu Marinescu, cello | Rita Costanzi, harp
The expansive opening Serenade for Violoncello and Harp is constituted by a single sweeping movement. Melodic materials presented by the cello are built around the expansion of two central themes. These themes, described by the composer as "simple," are explored and transformed until they become anything but. This melodic transformation, rendered here by Ovidiu Marinescu, exists atop a virtuosic harp tapestry of harmonic filigree admirably played by Rita Costanzi.
01 Serenade 17:19
tracks featuring Rita Costanzi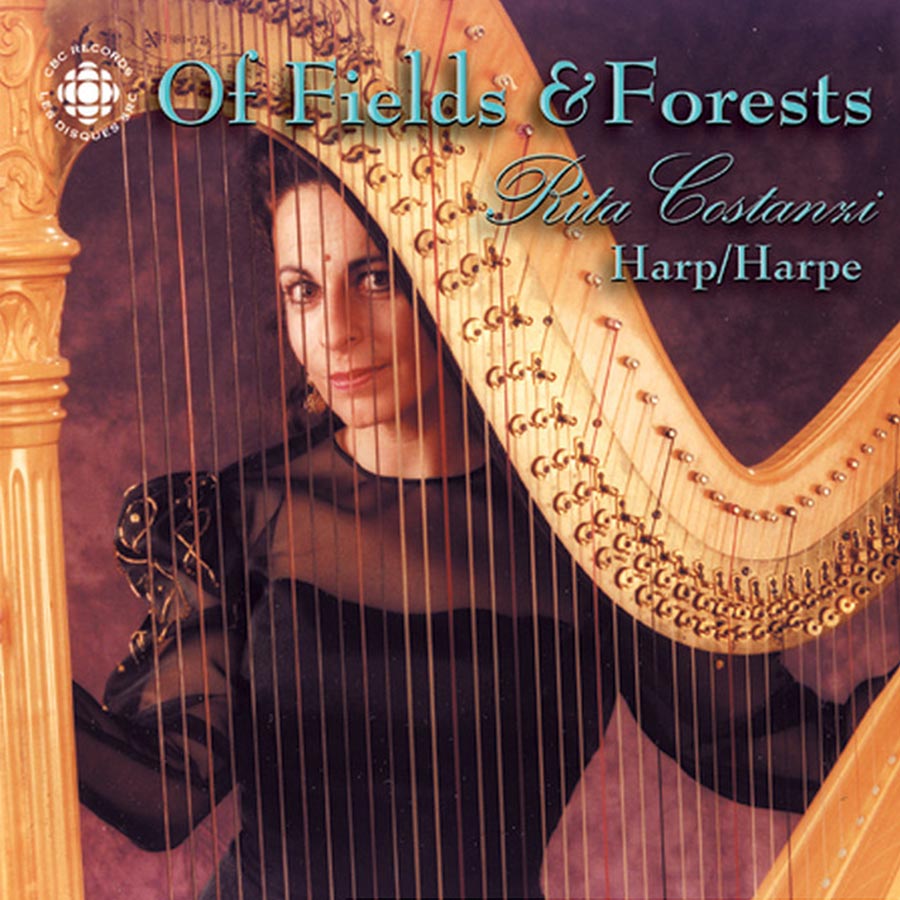 Release Date: 2000
Record Label: CBC Records
Of Fields & Forests
Marcel Tournier, Marcel Grandjany, John Thomas, Paul Hindemith, Sergiu Natra, Jean Coulthard, Fredrick Schipizky – composers | Rita Costanzi, harp
The harp is one of those instruments that has universal appeal. Combine that fact with the musical artistry of Rita Costanzi, and the results are truly heavenly. Costanzi's star shines very brightly indeed in this first solo disc for CBC Records. She presents a constellation of cultures and traditions, with appropriate favouritism to French repertoire, the harp most closely identified with the French. The disc takes its title from Canadian composer, Jean Coulthard's, Of Fields and Forests.
01
Harp Sonatine, Op. 30: I. Allegrement
6:05
02
Harp Sonatine, Op. 30: II. Calme et expressif
4:44
03
Harp Sonatine, Op. 30: III. Fievreusement
6:39
04
Vers la source dans le bois
4:26
05
Rhapsodie
9:06
06
The Minstrel's Adieu to his Native Land
7:18
07
Harp Sonata: I. Massig schnell
6:00
08
Harp Sonata: II. Lebhaft
2:31
09
Harp Sonata: III. Sehr langsam
4:11
10
Harp Sonatina: I. Allegretto semplice
1:13
11
Harp Sonatina: II. lento rubato
3:37
12
Harp Sonatina: III. Moderato ben ritmato
2:20
13
Of Fields and Forests
7:08
14
Elegy
6:18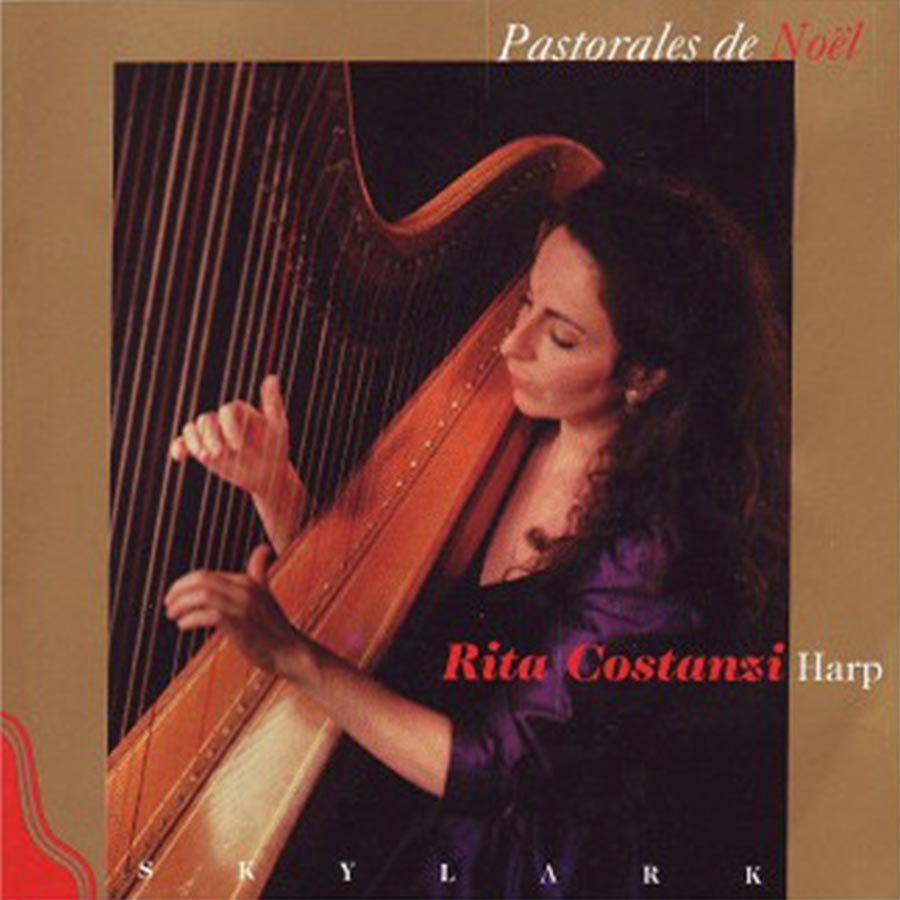 Record Label: Skylark Music (9400)
Pastorales de Noël
Rita Costanzi, harpist with the CBC Vancouver Orchestra, has assembled a program of music that interprets the entire Nativity Story – which is not unusual for Christmas songs. What makes this CD unusual is that Costanzi has found enough pieces to do it in purely instrumental terms.
"This local label seems to be carving out a Christmas niche. The best is by superb harpist Rita Costanzi. Here she weaves a hypnotic spell with her deft combination of expected classics and rarer items."
– Robert Jordan, The Georgia Straight
01
Trois Noels: Noel No. II
02
Trois Noels: Noel No. IV
03
Trois Noels: Noel No. VI
04
Noel Prevencal
05
Maria Wanders Through the Thorn
06
The Huron Carol
07
Carol of the Bagpipers
08
The Coventry Carol
09
Bring a Torch, Jeanette, Isabella
10
I Wonder as I Wander
11
Variations Pastorales Sur un Vieux Noel
12
Le Sommeil de l'Enfant Jesus
13
Short Fantasy on a Basque Carol
14
The Angel Gabriel
15
Short Fantasy on a Catalan Carol
16
The Christ Child's Lullaby
17
Pastorales de Noel: l'Etoile
18
Pastorales de Noel: Les Mages
19
Pastorales de Noel: La Vierge et l'Enfant
20
Pastorales de Noel: Entree et Danse de Bergers
21
Greensleeves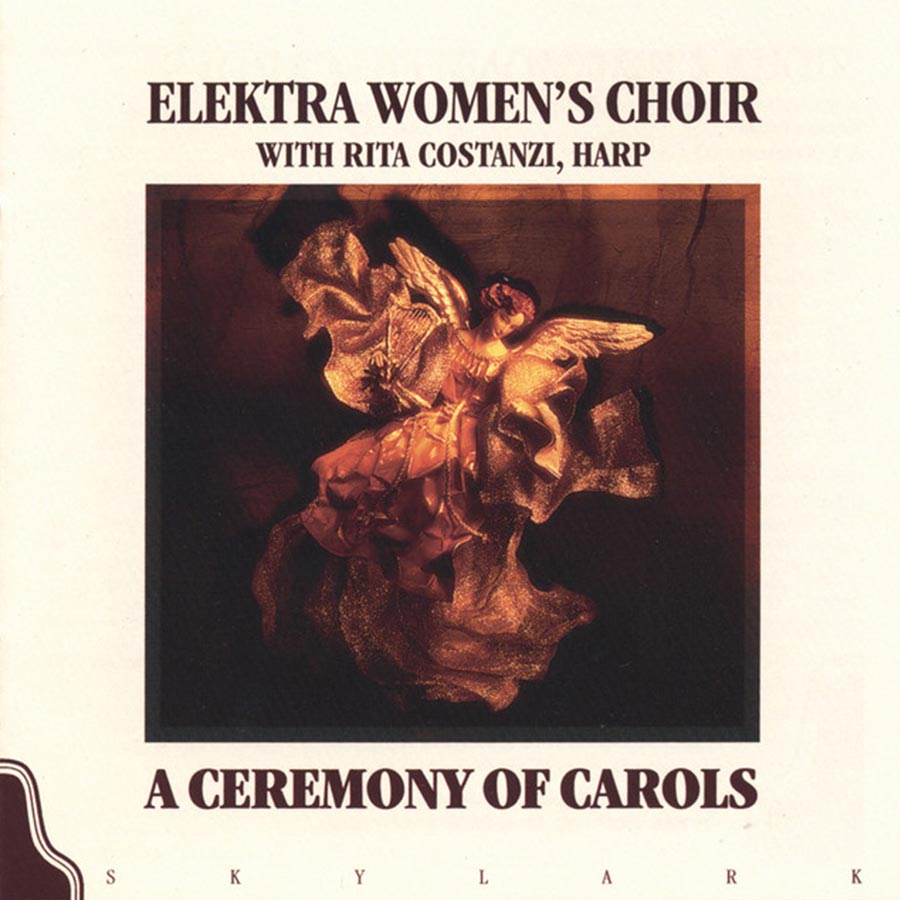 Record Label: Skylark Music (9703)
A Ceremony of Carols
Benjamin Britten, Paul Csonka, John Rutter – composers | Elektra Women's Choir | Rita Costanzi, harp
Elektra sings three Christmas works with harpist Rita Costanzi.
Ceremony of Carols by Benjamin Britten—surely the most famous piece ever written for choir and harp—is a series of musical gems that is exuberant, innocent, and moving. Concierto di Navidad by Paul Csonka features Spanish sensuousness and catchy Cuban rhythms. In Dancing Day, John Rutter retells the central event of Christmas simply and vividly in a tapestry of dance tunes.
01-12
A Ceremony of Carols
23:49
13-15
Concierto di Navidad
15:18
16-23
Dancing Day
26:12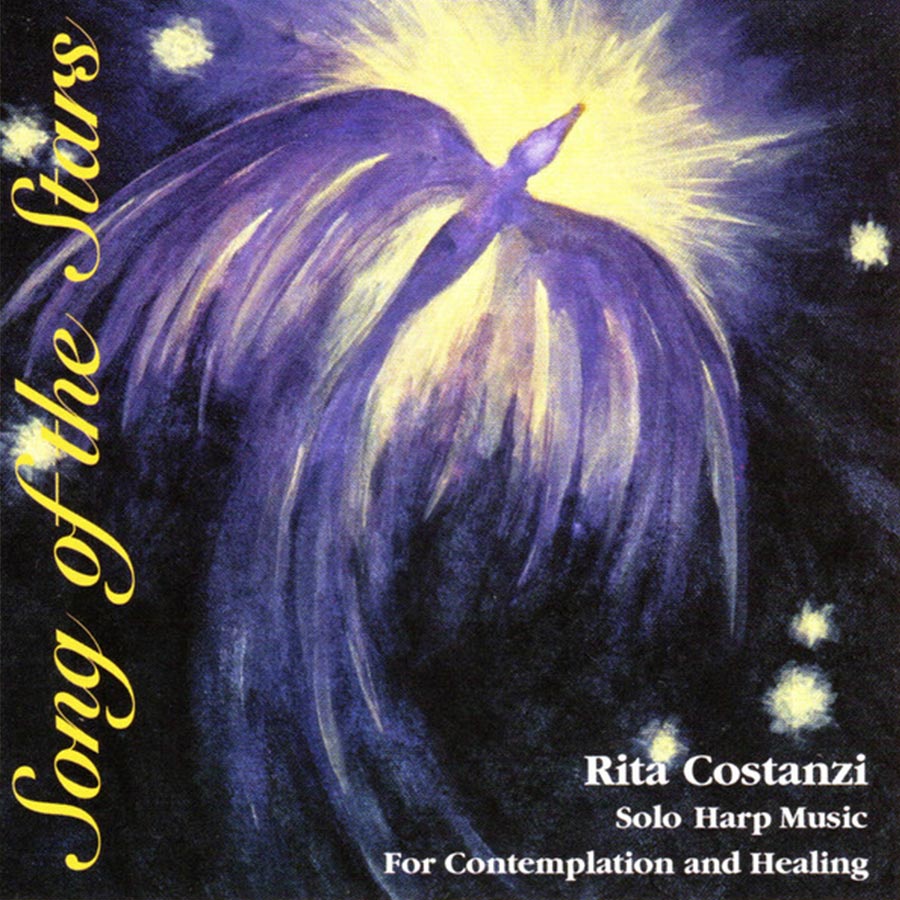 Song of the Stars
Song of the Stars, an album of Celtic Solo Harp music for contemplation and healing has received international acclaim and a five-star rating from CBC Radio's Sound Advice.
Rita Costanzi's album Song of the Stars was recorded in response to the increasing demand for assistance in the care of pre-palliative and palliative patients. Rita lends her immense talent and artistry to a cause that is close to her heart. This album is not only in memory of a friend, but for all who are troubled, ill, in fear, pain or dying – and to all who accompany them.
01
The Gartan Mother's Lullaby
3:29
02
All Through the Night
3:17
03
Air
3:23
04
Skye Boat Song
3:37
05
Ca' the Ewes to the Knowes
3:04
06
Women of Ireland
3:05
07
Aignish on the Machair
2:39
08
Putting Out to Sea
4:05
09
Love is Like a Red, Red Rose
4:11
10
The Grenadier and the Lady
2:10
11
The Christ Child's Lullaby
4:24
12
Carrickfergus
5:03
13
Marv Pontkalled
5:39
14
David of the White Rock
3:01
15
Farewell to Music
5:15
16
Farewell
4:00